Chicken houses - 12- 50 hens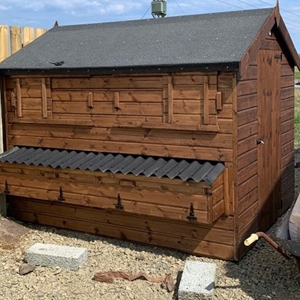 Browse our range of Chicken houses for 12 - 50 hens. Hand-crafted by professionals, our poultry houses and runs to provide plenty of space for your large flock of chickens, while not invading on your outdoor space, garden or holding. We stock a variety of sizes, designs and styles that are both practical and aesthetically pleasing. They can be provided with additions such as nest boxes and auto close doors, so you are guaranteed to find the right product for your needs. Furthermore, along with our bespoke service, we offer standalone runs to ensure you can get the right set up for your requirements.
Browse our extensive range of handmade, high quality, poultry houses and runs. Included in our selection of robustly built chicken coops, hen arks, broody coops for back garden chicken keepers, poultry breeders or smallholders chicken houses are top brands including Littleacre Direct, Jim Vyse Arks, Buttercup Farm chicken houses as well as our bespoke made to measure chicken runs. Whether you are looking for a hen house for a few hens in the back garden or a large flock of 50 laying hens, we will have something to suit your needs. If you are not sure whether to keep hybrid hens or pure breed chickens such as Orpingtons, Pekin Bantams, Silkies or Polands, we offer free advice on poultry keeping, so call us for a chat about the most suitable chicken house for your flock of hens.