Barrels and Barrel Products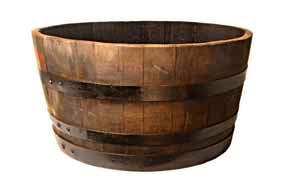 Sourced from a traditional cooperage in Scotland we offer a great choice of rustic oak barrels which can be utilised as planters, tubs, water butts and water features. These oak whisky barrels are rustic in style and robustly built and will enhance your garden with their attractive looks and variety of uses including oak barrel pots or planters. Options include half oak whisky barrels with or without drainage holes, rustic or black painted hoops and our water features and water butts are available with or without a pump or tap. Browse our range of half oak barrels for sale with free UK delivery.
Our popular range of cut casks are available in several sizes including an XXL half barrel, ideal for your large plants, shrubs or even trees or even as a garden pond or water feature if you add a liner.
Don't miss our best-selling set of three oak whisky barrel tubs that will create a lovely addition to any garden.