Aviaries and Aviary Panels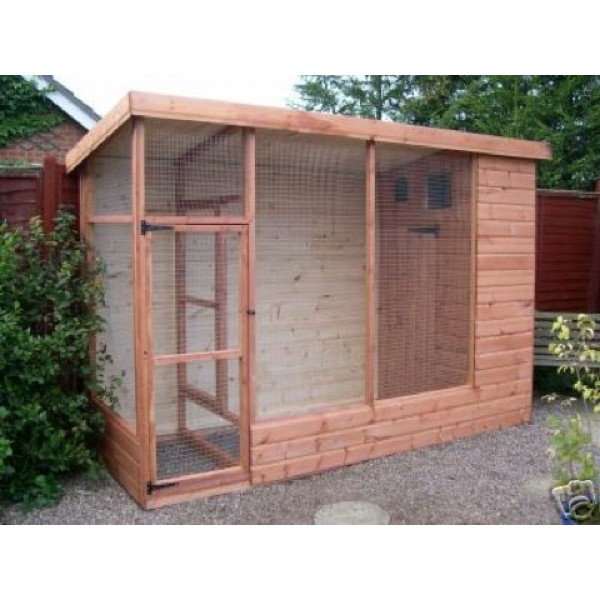 Browse our wide range of quality aviaries and aviary panels. Included in our range are our standard aviary designs as well as our made to measure aviary service. Our outdoor bird aviaries are suitable for a variety of different breeds of birds including budgies, canaries, finches, cockatiels, parrots, eagles, hawks, owls, birds of prey as well as poultry such as quails, chickens, guinea fowl, ducks and geese. Our aviaries are manufactured to a high professional standard from quality treated timber and galvanised wire mesh. They are complete with nest boxes and roosting areas as well as a flight area for the birds. Perches and aviary safety porches can be ordered if required.

In our extensive choice of quality aviaries, you will find aviaries suitable to use outside in your garden or on your patio and we also make aviaries for use in animal sanctuaries and care homes which are suitable for all sorts of different birds and poultry. They are manufactured to very high standards from treated timber and with a choice of galvanised wire mesh suited to the type of bird you are keeping. As specialists in our field, we offer professional and friendly advice on caged birds and poultry. We have the best selection of outdoor cages in our online shop including our bestselling Victorian Hexagonal bird aviaries, all weather breeders' aviaries and our apex aviary with flight area and housing. Our standard and display aviaries offer the perfect solution for hobby bird keepers and bird fanciers alike.

Our aviaries are also suitable to use as outdoor pet cages for cats, rabbits, dogs, chipmunks etc.

Made to measure service - Aviaries and Aviary Panels, Pet, Chicken and Duck Houses, Runs and Enclosures.

BESPOKE SERVICE – Tailor-made to measure to your requirements. If you are looking for a specific size, shape or configuration we can provide a quotation. Our aviary panels are also available to make up your own chicken run, duck run or aviary to your own dimensions and specifications, so if you have any specific requirements or are looking for a bespoke design, please contact us via telephone on 01293 691122 or email us at sales@buttercupfarm.co.uk and we will be happy to discuss your requirements and assist with your purchase. All our bespoke products including our made to measure animal runs, sheds, stores and outdoor bird aviaries are hand made in England to extremely high standards and using top quality materials. Our bespoke service is also available for sheds, outdoor facilities, enclosures and many more products. Please contact us with any queries.

Browse our range of birds, pets and wildlife houses, aviaries habitat.